About QeyFace AI Facial Intercom
Welcome to the world of friction-less & contact less access control system - say hello to QeyFace Hassle-free, intelligent and foolproof AI Intercom system, this facial recognition technology removes the need for any clicks, logins, or ID cards. It will take less then second for any employee or residents to open gate. It brilliantly simplifies the on-boarding experience and simultaneously solves the problem of tracking and tallying access log & Attendance information, plugging revenue leaks for the organization.
AI Facial Recognition
The latest optical technology and AI facial recognition algorithm accurately distinguish the faces of users. It perfectly blocks spoofing and grant access to authorized users less then second
Temperature Screening
The QeyFace Temperature Screening Solution uses advanced thermal imaging technology for a safe, efficient and non-intrusive way to protect your employees and visitors.Measurement accuracy within +- 0.3 °C
Mobile Video Intercom
The stylish touchscreen intercom terminals, with high resolution imagery, allow for calling to a virtually unlimited number of entrance and monitor stations within our integrated IP communication system.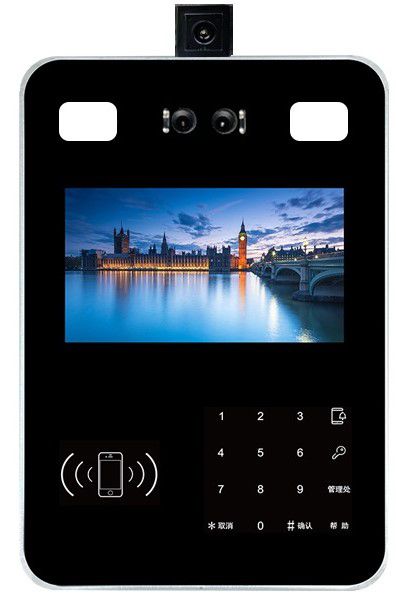 Door Access Control
QeyFace access control system can be used both as a standalone system and as an integrated with the access control system through different communication interfaces like TCP/IP, Wiegand
QRCode Access
QR Code access control comes with a secured and Time limited QR code attribute that increases security by restricting unauthorized entry to your premise. The Visitor will have to scan the limited QR Code that he/she has been provided with to enter the premise.
Resident / Employee Mobile app
Manage your residents and employee from any where any time. Invite and manage visitors from palm of your hand.
Keep your Employees & Visitors Safe
How QeyFace Can help
Safely screen employees and visitors for high temperature as they walk into a building or a defined area. The system can prevent people from entering if the pre-defined temperature threshold is exceeded or are not wearing a mask and trigger an alarm.
Provides fast and accurate body-temperature measurement

Detects if a protective mask is being worn

Users can be denied door or system access if a high temperature or no mask is detected

Embedded face & palm recognition provides 100% hands-free hygienic user authentication for various applications

Built-in facial recognition records personnel safety log and verifies records.
Why QeyFace System?
Time-Saving
It takes barely .3 second to recognize your face and create an attendance journal in the payroll system, saving precious man-hours.
Accuracy
Automatically scans multiple visitors/employees, with 99.8% accuracy in face detection. Faces once recognized are accurately enrolled into the payroll system.
Optimize Resource
Makes data available in real-time and synchronizes the data without a time-lag. This real-time monitoring helps to optimize workforce and other resources
Increased Productivity
Saving time will lead to an increase in productivity, resulting in reduction of cost (optimal utilization of resources) and an increase in revenue.
Well Integrated
Readymade integration with QeyBox HR Payroll and Webhook for External system intergration. Our System required less effort as well, unlike other time marking systems that require efforts to develop integration components.
Offline
Integrated with systems like loT sensors, it cannot be scammed easily. Our System can works offline too, useful in locations without Internet access
Let's Talk
To make sure we give you the most relevant information about our products and pricing, we need to learn a bit about you first.